In January this year, the National Development and Reform Commission stipulated that by the end of 2020, the catering industry across the country will ban the use of non-degradable disposable plastic straws. On June 30, McDonald's China announced that from now on, nearly a thousand restaurants in Beijing, Shanghai, Guangzhou and Shenzhen will be the first to stop using plastic straws. Why don't you use cleaning brushes for straws?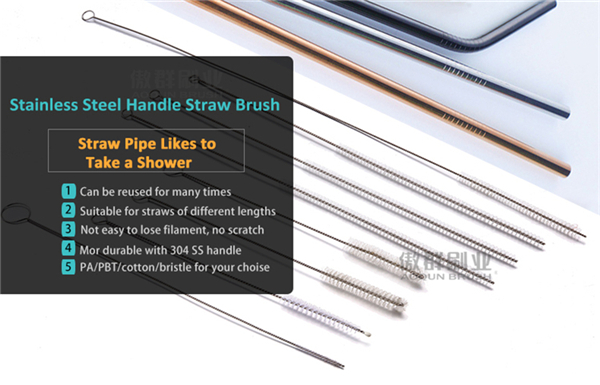 The plastic straws used daily are small and difficult to be grabbed by the garbage disposer and cannot be recycled and reused. Therefore, most of the plastic straws are thrown into landfills or float on the ocean. At the same time, these toxic and harmful microplastic particles will also accumulate through the food chain, and eventually may enter the human body, threatening human health.
Using glass straws, stainless steel straws, titanium straws and other recyclable straws can be reused by simply cleaning them with professional cleaning brushes for straws. The cleaning brushes for straws produced by Aoqun Brushes are made of high-quality food-grade wool, which is safe and non-toxic to use with ease; 304 stainless steel handles are used, which is not rusty and durable; imported advanced German production machines to extend the service life of cleaning brushes for straws.

A small step for us, a big step for the world, it is very meaningful to promote recyclable straws instead of non-degradable disposable plastic straws. Come to Aoqun to customize a green and environmentally friendly cleaning brushes for straws!