"The delivery cannot be timely, what should I do?" George from Singapore called for help. Originally George's company was responsible for the supply and installation of the door parts and accessories. This time, George was responsible for a screen door project in Australia, and a complaint about the deformation of the platform screen brush door seal occurred during the acceptance test of the owner.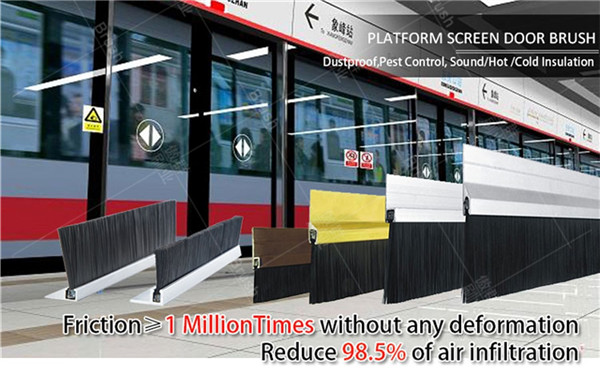 Roger is our senior sales from AOQUN, talked to George, Roger has rich experience in platform screen brush door seal. He introduced George to several possibilities for brush deformation. And Roger recommended that George send a small sample of the platform screen door seal brush that is being used, and send several commonly used products to George immediately. After analysis, it was found that the brush seals for doors purchased by George was made of inferior filament, which has poor resilience and easy deformation. At the same time, George also received a sample from our AOQUN, compared with previously deformed filament, it has the obvious effect, the platform screen brush door seal of AOQUN is soft, and resilience is much better. Due to the tight schedule, Roger applied to the company for an urgent order immediately, and the 5,000-meter screening door seal brushes were prepared and delivered within 2 days.
After receiving the platform screen brush door seal and pass the acceptance test, George sent a thank-you letter and signed a long-term supply agreement with Roger. Just about two days, George informed Roger that he would soon place an order for platform screen brush door seal for the next Chile project, 10,000 meters.