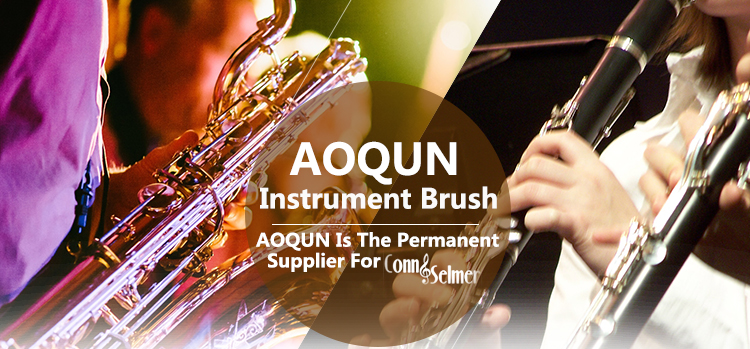 Brass instrument plays an important role on large-scale symphonic music, you can distinguish the sound from brass instrument, sometimes calm, sometimes excited. The condition for making wonderful sound is to maintain often and clean by mouthpiece cleaning brush. Everyday playing practice will make the brass instrument full of saliva, bacteria, thus affect the sound of the brass instrument. As time goes by, the brass instrument even cannot be played.

The diligent training musicians must also be willing to cleaning brass instrument to keep it in an ideal sound state. At this time, they need a necessary mouthpiece cleaning brush. AOQUN Brush apply the firm pure nylon bristle (PA6/PA66) and 304 stainless steel to twist the mouthpiece cleaning brush. The brush hasn't the sharp part to scratch the mouthpiece. The designed tapered brush head can put inside deeply into the mouthpiece to touch every corner. The tail part of the mouthpiece cleaning brush has the loop to dry the mouthpiece cleaning brush, keep the mouthpiece cleaning brush clean for reuse. Why don't we choose brass for brush filament? As we all know, the brass instrument is made of brass. If you clean the brass instrument with brass, it is easy to scratch the mouthpiece part and the place that hide the bacteria.
AOQUN produce music instrument cleaning brush, beside of mouthpiece cleaning brush, there are two doubled cleaning brush, sound key cleaning brush and tube cleaning brush. Welcome to consult!