As a cleaning specialist, the medical cleaning brush faces the medical instrument full of bloodiness, bacteria, viruses, but it does not afraid of the dirty and works like a dare-to-die corps to clean the medical instrument everyday diligently. The professional ethics of the medical cleaning brush is our hero.
Therefore, the medical cleaning brush need to be thoroughly cleaned after used as to keep in clean condition for reuse. If you clean properly, it will extend the service life. You may pay attention to a few points in the cleaning process. Firstly, you should soak the brush in disinfectant, then use ultrasonic cleaning machine to clean it for a few minute. If the stains on the brush can not be cleaned, the medical cleaning brush sacrifice glorious. It should be discarded immediately. Last but not least, the medical cleaning brush can be reuse only after sterilization. The used medical cleaning brush should be sterilized in the using day.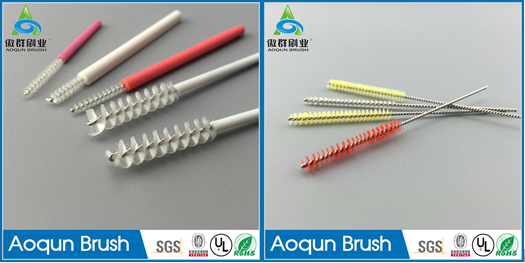 AOQUN can customize all kinds of cleaning brush for medical instrument, no matter standard size or non-standard size. AOQUN medical cleaning brush has no debris, neatly cutting under a microscope of 30 times. We can be your satisfied product.
The picture shows the proud group of hairbrush - under the microscope, magnified 30 times more than the hairline without debris.