Brushes made of processed horsehair are called horsehair brushes. Since yak hair is similar in quality to horse hair, brushes made of yak hair are also collectively called horse hair brushes.
There are mainly the following types of horsehair brushes: horsehair can be used to make polishing wheels, horsehair cleaning brushes, horsehair makeup brushes, horsehair strip brush rollers, etc.
The application effect of the horsehair brush roller is better than that of the ordinary brush roller. It belongs to the secondary development of the brush roller. The horsehair brush roller is more prominent than the ordinary brush roller in terms of wear resistance and corrosion resistance. It is usually used to treat Surface polishing, waxing and glaze sealing of leather, floor, furniture, etc.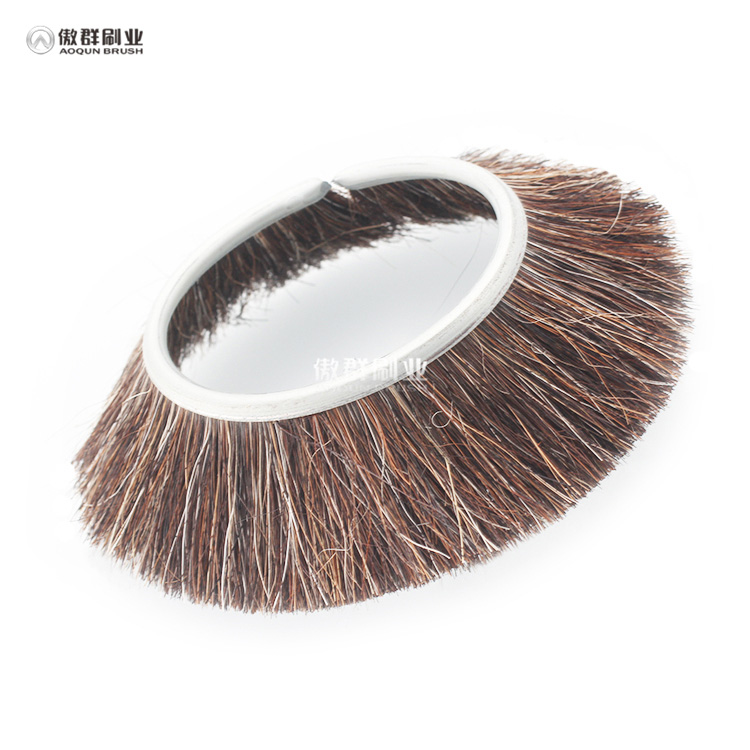 The main features of the horsehair brush are that the bristles of the horsehair tail are soft, antistatic, highly absorbent, and have a good cleaning effect.
Main material made:
The main material is the processed horsehair and yak hair. The horsehair is soft and will not become warm due to the weather cooling, and the horsehair is resistant to alkali corrosion.
Horsehair brushes and Horsehair brush roller main purpose:
Horsehair brushes are mainly used for civil and industrial purposes. Wide range of civil uses. It is mostly used for painting, cleaning, and daily life brushes. Horsehair brushes are mostly used for surface treatment and polishing in industry. Because horsehair has the characteristics of softness, corrosion resistance and no damage to the working surface, horsehair brushes are also mostly used for dust removal and oil removal of cutting-edge instruments.
Most of the raw materials for horsehair come from Outer Mongolia, Northeast China. Horse hair can be divided into: horse hair, horse body hair, horse tail, horse hoof hair, etc.